Who does not know the chaos in the tack room of trailers or trucks, chaos in the tack cupboard, all great saddle cloths that are looking for a well-protected place...
Our blanket and saddle pad bag is the solution!
In this bag you can keep saddle and/or horse blankets and other accessories neat and tidy. It protects the valuable content from dust and moisture - even white tournament saddle pads remain unpolluted until use.
The dimensions are suitable for all common tournament cabinet models - the bag has also already been tested as a mobile dog place.
The blanket and saddle pad bag would also be a practical and visual enrichment for the saddle cupboard at home.
The transport is easy and comfortable thanks to the robust handles. The bag is made of a tear-resistant, waterproof and dirt-resistant polyester fabric, but is still so flexible that it hardly takes up any space to stow it away. The bag is easily accessible from three sides thanks to a double zipper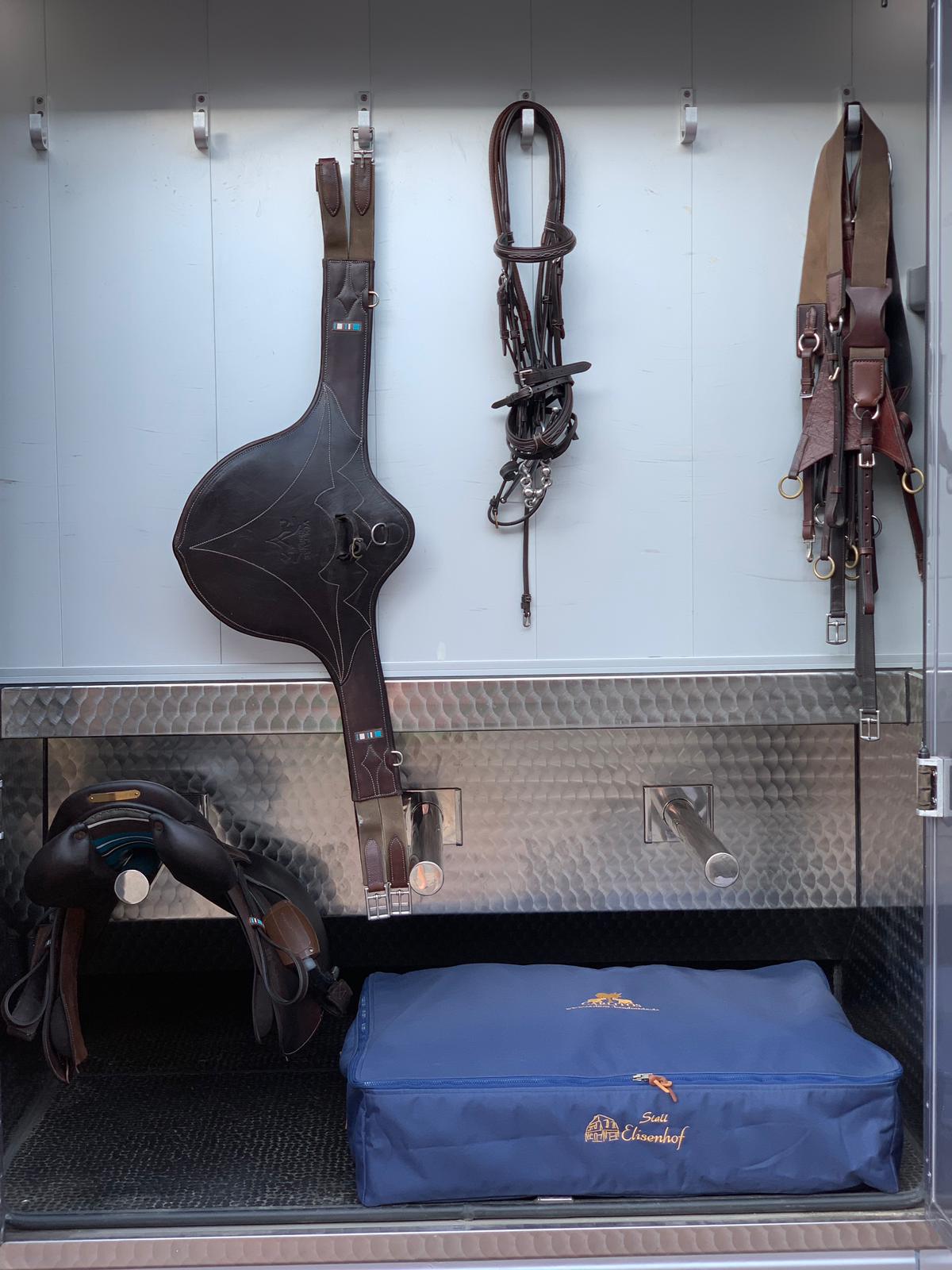 BLANKET AND SADDLEPAD BAG
• Convenient for storing saddlecloths and horse blankets
• Up to 8 saddlecloths can be stowed away or several blankets
• Fits perfectly on the mobile tack cabinet and in the trunk
• Ideal as a transport bag thanks to 2 side handles
• Good presentation of logo embroidery
Lots of space
Up to 8 saddlecloths or several horse blankets can not only be transported but also stored. Ideal for storing horse and saddle blankets at home.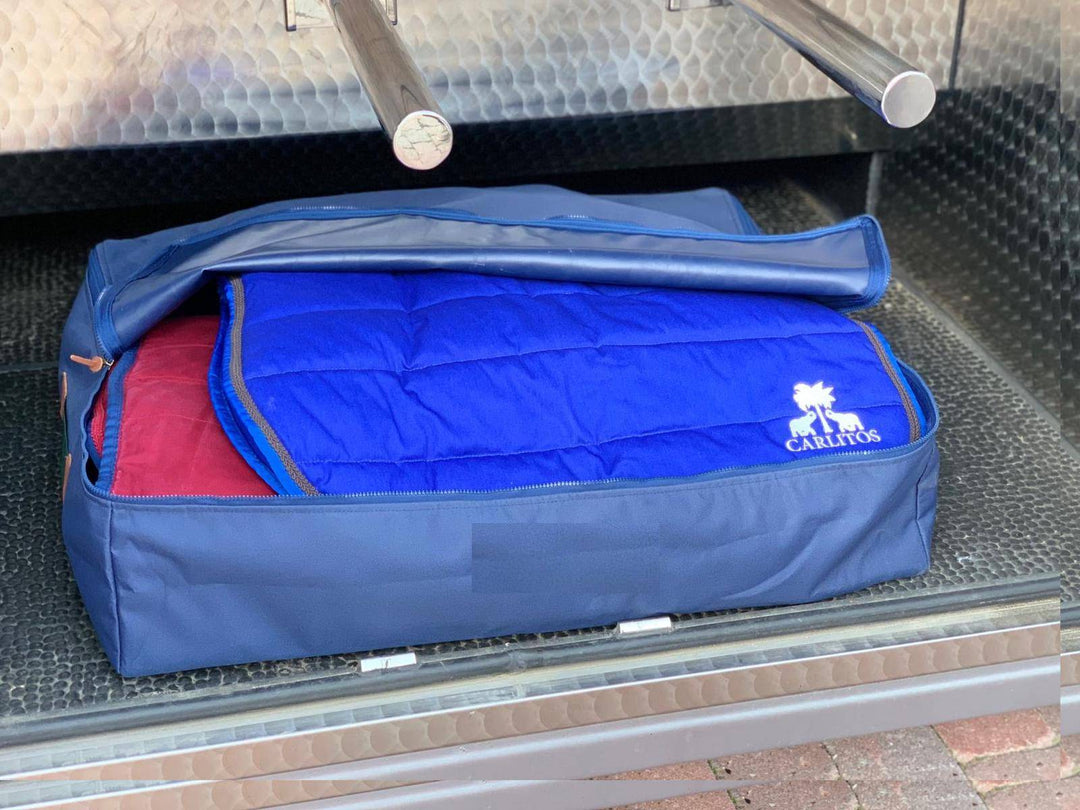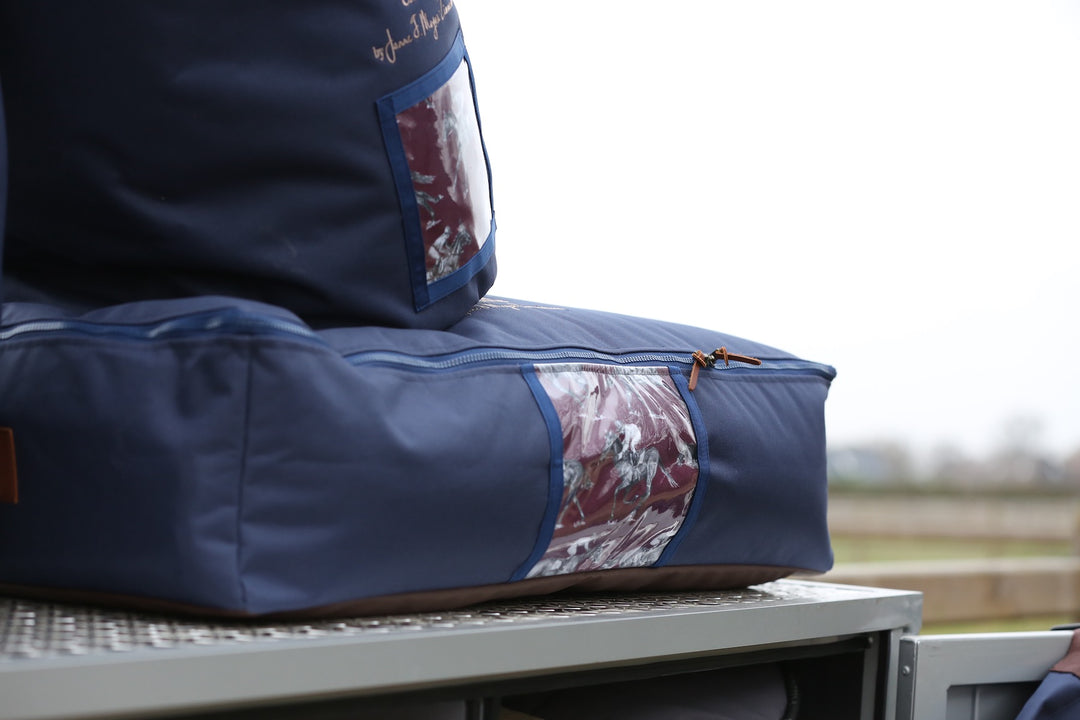 Perfect for the tournament
Fits perfectly on the mobile tack cabinet and in the trunk. At the tournament there is significantly more space in the saddle cupboard because the white saddle pads are stowed in the saddle pad bag to protect them from dust and dirt.
Cover and Saddle Pad Bag Deluxe DESIGN YOUR OWN saddle pad Dyo